---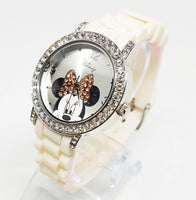 Sale
Minnie Mouse Disney Watch Women | Silver Diamond Ladies Watch
Vintage Radar
Sale price €89 EUR Regular price €125 EUR
Tax included.
Shipping
calculated at checkout.
Minnie Mouse Disney Watch
This vintage Minnie Mouse Disney watch for women will make you stand out. The white rubber watch band and the diamond-like silver-tone dial will surely impress. The watch is powered by a precise quartz movement, keeping perfect time.
Walt Disney 
Walter Elias Disney was an American entrepreneur, animator, voice actor, and film producer. A pioneer of the American animation industry, he introduced several developments in the production of cartoons. As a film producer, Disney holds the record for most Academy Awards earned by an individual, having won 22 Oscars from 59 nominations. He was presented with two Golden Globe Special Achievement Awards and an Emmy Award, among other honors. Several of his films are included in the National Film Registry by the Library of Congress.
The Walt Disney Company
Disney was originally founded on October 16, 1923, by brothers Walt and Roy O. Disney as the Disney Brothers Cartoon Studio; it also operated under the names The Walt Disney Studio and Walt Disney Productions before officially changing its name to The Walt Disney Company in 1986. The company established itself as a leader in the American animation industry before diversifying into live-action film production, television, and theme parks.
Our watches and pins include the following Disney Characters: Mickey Mouse, Minnie Mouse, Snow White and Seven Dwarfs, Cinderella, Alice in Wonderland, Sleeping Beauty, Winnie the Pooh, The Little Mermaid, Lion King, Aladdin, Toy Story, Mulan, Tarzan, Pirates of the Caribbean, Cars, WALL-E, Frozen, Donald Duck, Daisy Duck, Huey Duck, Louie Duck, goofy, Pluto, Clarice, Pete, Bashful, Doc, Dopey, Grumpy, Snow White, Piglet, Eeyore, Tigger, Rabbit, Lumpy, Mowgli, Ariel, The Little Mermaid, Simba, Mufasa & many more. Make sure to search for your favorite character. 
____________
All you need to know about Vintage Radar
From our collection of vintages and antiques, only the best pieces make it through our selection for this platform. Our goal is to locate the finest vintage pieces and reclaim their original, timeless beauty. 
The process behind our brand is a complex one: restoring antique and vintage pieces, making them look flawless, carefully reconstructing what is broken and capturing them as accurately as possible so that these articles get a chance to a second story.
The age, the brand and all the work behind every product, are all reflected in the price of our items. You can read more about the story behind our brand here. 
Our vintage watches are extensively verified by local watchmakers that we work with. Any repairs needed are done by professionals, so rest assured, all the watches are in perfect working condition. They are additionally checked for another 24 hours, once the order is placed, before shipping.
The pieces we sell are vintage, so they may present marks of the passage of time. Make sure you have a close look at the photos of each product. We try to capture them as accurately as possible. Colors may differ slightly. 
____________
Shipping information:
We offer Free International Shipping with Tracking Number, from Romania.
We advise that you provide your phone number when entering the shipping address so that the post office can contact you if necessary, once the package arrives.
For more information regarding shipping see the Frequently Asked Questions page.
Secure Payments - Paypal Express Checkout:
All payments are securely processed through Paypal Express Checkout, which accepts all major credit card networks (Visa, Mastercard, American Express and Discover). All processing fees are included in the price of the product, no extra taxes will apply. 
____________
Got a question for us? Check out the Frequently Asked Questions page.
Or contact us for more information.