---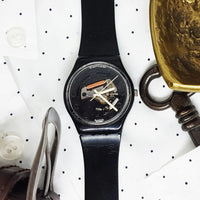 Sale
BLACKLINER GB161 Swatch Watch | Vintage Skeleton Swatch Watch
Vintage Radar
Sale price €100 EUR Regular price €130 EUR
Tax included.
Shipping
calculated at checkout.
BLACKLINER GB161 Swatch Watch
With a skeleton design feature, which allows you to see the watch's mechanism through its dial, the BLACKLINER GB161 Swatch watch is an impressive addition to our vintage collection. Perfect time-keeping is ensured with this Swatch watch on your wrist. Moreover, its super minimalist design, sleek and effortlessly elegant, makes this piece a perfect choice for everyday wear. 
If you want to steer clear of colorful Swatch designs, opt for a classic timepiece like the BLACKLINER GB161, you won't regret it. 
Product Line: Originals
Product Family: Gent
Year: 1994
Reference: GB161
SWATCH WATCHES SINCE 1983
Swatch is a Swiss watchmaker founded in 1983 by Nicolas Hayek and a subsidiary of The Swatch Group. The Swatch product line was developed as a response to the "quartz crisis" of the 1970s and 1980s, in which Asian-made digital watches were competing against traditional European-made mechanical watches. We have been collecting Swiss watches for almost 15 years and of course, this amazing brand had to make it in our collection. Moreover, it has become the most prominent one, as our collection rises up to 1000 Swatch watch models at this point. We have watches from all the major Swatch watch categories, such as Swatch Originals, Swatch Irony, Swatch skin, Swatch Bijoux, Swatch Digital Touch, Swatch Sistem51, Chronograph Swatch watches, Scuba Swatch watches, Flik Flak & more. Check out our entire collection here.
An amazing fashion innovation
From the start, the Swatch brand
 targeted primarily fashionable young people. Swatch dials were a riot of colorful, cheerful, cheeky designs. For Swatch, the dial (and sometimes the case) was a blank palette on which designers could put whatever they chose. There were no rules. Swatch's anything-goes aesthetic allowed photographs, printing, painting, cartoons, designs – whatever – to go on the dial. The design stole the show. The time, in the form of three hands, was there, if you wanted it. Swatch quickly collaborated with contemporary artists to do limited, collector edition pieces. The first was Kiki Picasso in 1984 and eventually included dozens of artists. Have a look at our Swatch collection to find your favorite design!
Vintage Radar Watch Collection
VintageRadar is the place where you can find thousands of vintage watches and other eclectic antiques. With many years of collection and restoration experience, we carry some of the most spectacular watch brands that have been acclaimed throughout the years, such as Seiko, Rolex, Omega, Swatch, Longines, Pulsar, Enicar, Fossil, Timex, Disney, Polar, Doxa, Waltham, Hamilton, Breitling, Certina, Cyma, Wittnauer, Citizen, Raketa, Armitron, Ingersoll, Pobeda, Glashütte, TAG Heuer, Elgin, Citron, Croton, Zodiac, Orient, Cartier, IWC, Dorset, Movado, Benrus, Rado & many more. You'll find impressive timepieces from most Swiss, German, Soviet and Japan watch brands on the market, even from vintage brands that have ceased production, leaving us with a limited edition watch collection.  Browse through our collection and find the most suitable watch for you, whether quartz or mechanical movement, water-resistant or diver, plastic, stainless steel or gold-plated, you name it, it is probably in our collection. Keep an eye on the platform, as we're adding new products everyday! 
____________
All you need to know about Vintage Radar
From our collection of vintages and antiques, only the best pieces make it through our selection for this platform. Our goal is to locate the finest vintage pieces and reclaim their original, timeless beauty. 
The process behind our brand is a complex one: restoring antique and vintage pieces, making them look flawless, carefully reconstructing what is broken and capturing them as accurately as possible so that these articles get a chance to a second story.
The age, the brand and all the work behind every product, are all reflected in the price of our items. You can read more about the story behind our brand here. 
Our vintage watches are extensively verified by local watchmakers that we work with. Any repairs needed are done by professionals, so rest assured, all the watches are in perfect working condition. They are additionally checked for another 24 hours, once the order is placed, before shipping.

The pieces we sell are vintage, so they may present marks of the passage of time. Make sure you have a close look at the photos of each product. We try to capture them as accurately as possible. Colors may differ slightly. 
____________
Shipping information:
We offer two types of shipping: Free shipping (without tracking number) and Shipping with Tracking Number (20 EUR for the majority of our products). 
The items can be shipped worldwide, from Romania.
We advise that you provide your phone number when entering the shipping address so that the post office can contact you if necessary, once the package arrives.
 For more information regarding shipping see the Frequently Asked Questions page.
Secure Payments - Paypal Express Checkout:
All payments are securely processed through Paypal Express Checkout, which accepts all major credit card networks (Visa, Mastercard, American Express and Discover). All processing fees are included in the price of the product, no extra taxes will apply. 
This online store is Powered by Shopify. 
____________
Got a question for us? Check out the Frequently Asked Questions page.
Or contact us for more information.