---
Posted by Lavinia Bejan on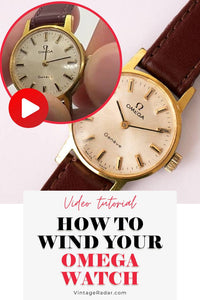 First time winding your Omega watch and wondering how to do it correctly? Check out our quick and useful tutorial on how to set the time and wind your Omega watch. This video tutorial will work for both automatic and mechanical hand-winding Omega watches. So, let's check it out! How to Set the Time and Wind an Omega Mechanical or Automatic Watch Setting the time and winding your watch for the first time might be intimidating if you haven't had a mechanical watch before. Especially if you've invested a lot of money in a luxurious timepiece. But the process is very simple,...
---
Posted by Lavinia Bejan on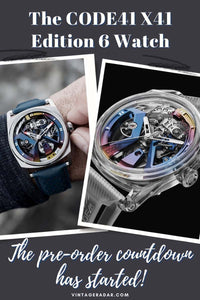 Pre-orders are now open for the CODE41 X41 Edition 6, which is now available with a breathtaking transparent sapphire case, extremely durable, whist allowing you to take a generous look at the impressive movement inside. 
In this article, we discover the impressive X41, the first participative fine watchmaking model in the world, and look behind the curtain, at the values that animate the CODE41 project.
If you're a watchmaking enthusiast and haven't heard of CODE41 before, make sure to check out this article to learn about a bold, innovative project born from a strong passion for mechanical beauty and watchmaking. If you know a thing or two about them already, have a look at the latest version of the X41 now available for pre-order. Let us know in the comments what's your take on the latest updates.
---
Posted by Lavinia Bejan on
Bold, creative, affordable, Swiss-made, these are just some of the things that we love about Swatch watches. With hundreds of joyful designs that defy the rules of classic Swiss watchmaking, Swatch has created a canvas for artists and designers from all over the world: a Swiss-made watch with a message. Each model is different, each model is designed to convey Swatch's message of creative freedom, and joy of life.
Since we are huge Swatch lovers ourselves, we're excited to put together a short history of the Swatch brand and how it made its entrance on the watch market.
If you're a Swatch fan yourself, you'll surely find their story interesting as well, so let's find out more about the journey of the Swatch brand!