---
Posted by Lavinia Bejan on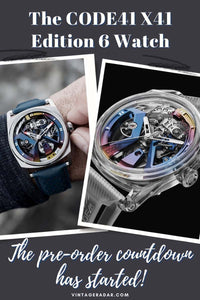 Pre-orders are now open for the CODE41 X41 Edition 6, which is now available with a breathtaking transparent sapphire case, extremely durable, whist allowing you to take a generous look at the impressive movement inside. 
In this article, we discover the impressive X41, the first participative fine watchmaking model in the world, and look behind the curtain, at the values that animate the CODE41 project.
If you're a watchmaking enthusiast and haven't heard of CODE41 before, make sure to check out this article to learn about a bold, innovative project born from a strong passion for mechanical beauty and watchmaking. If you know a thing or two about them already, have a look at the latest version of the X41 now available for pre-order. Let us know in the comments what's your take on the latest updates.