---
Posted by George Bogdan Bejan on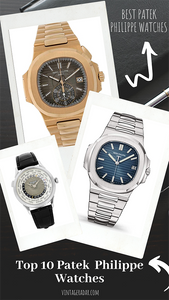 Welcome to our list of
 Top 10 Best Patek Philippe Watches
 that can be found online to purchase. Patek Philippe watch prices are quite high, the ones in our list 
ranging between $30,000 and $200,000
. Pre-owned Patek Philippe watches might go as low as $10,000, so always keep an eye on them!
---
Posted by George Bogdan Bejan on
We welcome you to our top 15 Rolex watches for men and hope that by the end of this article you will know more about the Rolex watch brand, what types of Rolex models are out there, their prices and most importantly which one best suits you! From the entry-level Rolex Oyster Perpetual to the $66,000 + Rolex Cosmograph Daytona we have everything included on this list!