---
Posted by Lavinia Bejan on
Like we promised in our previous article on Nordgreen's spring collection, we'll go more in-depth about one particular piece in their range: the Philosopher. We have tested Nordgreen's Philosopher watch for some time now and this is our review!
We'll start off by introducing you to the Nordgreen watch model that we'll be reviewing. We'll have a look at its design features, movement, the experience of wearing it, the price point, delivery times, as well as the giving back program of the Nordgreen Copenhagen watch brand. Needless to say, we have taken a lot of photos of the watch, to give you an idea of how it looks on the wrist, about the packaging, and overall shopping experience. Let's discover the Philosopher! 
---
Posted by Lavinia Bejan on
Welcome to our Top 10 Anne Klein Watches for Women, where we will be introducing some of our favorite Anne Klein watches available now on the market. If you're looking for an elegant, versatile designer watch for ladies, you will surely find some of these timepieces interesting. 
Anne Klein pieces tastefully combine amazing, elegant designs with seemingly effortless versatility. The secret is this: Anne Klein watches can be worn on any occasion. 
Ready to find your perfect everyday watch? Let's dive into our Top 10 Anne Klein Watches for Women! 
---
Posted by Lavinia Bejan on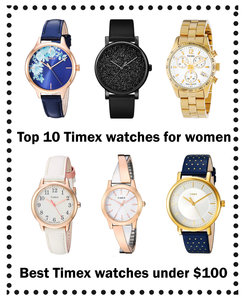 Discover our Top 10 Timex watches for women: beautiful, functional, affordable Timex watches under $100 that have been widely appreciated in recent years! If you're not sure Timex is the brand for you, or what Timex watch model fits you best, keep reading to get all the key insights before making your purchase.
With a history of over 150 years, Timex has made a name for itself as a very reliable watch brand. Timex watches are performing well and are very reasonably priced for their design and qualities. In our Top 10 Timex watches for women, we want to present you some of the best-rated Timex watch models that would make great everyday watches, in various designs and for various lifestyles. 
Let's dive into the Top 10 Timex watches for women under $100!