---
Posted by Lavinia Bejan on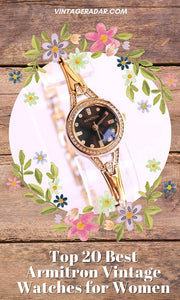 Looking for a timelessly elegant vintage watch that will always stay in style?
Explore with us our newest selection of Armitron watches for women. 20 unique elegant dress watches that have recently made their way into our huge collection of vintage and pre-owned watches. You will absolutely love these carefully selected timepieces, one for every vintage lover out there!
---
Posted by Lavinia Bejan on
Welcome to our Top 10 Anne Klein Watches for Women, where we will be introducing some of our favorite Anne Klein watches available now on the market. If you're looking for an elegant, versatile designer watch for ladies, you will surely find some of these timepieces interesting. 
Anne Klein pieces tastefully combine amazing, elegant designs with seemingly effortless versatility. The secret is this: Anne Klein watches can be worn on any occasion. 
Ready to find your perfect everyday watch? Let's dive into our Top 10 Anne Klein Watches for Women!